'@JOIN SHOULDER SEWING MACHINE@U-3502-E '@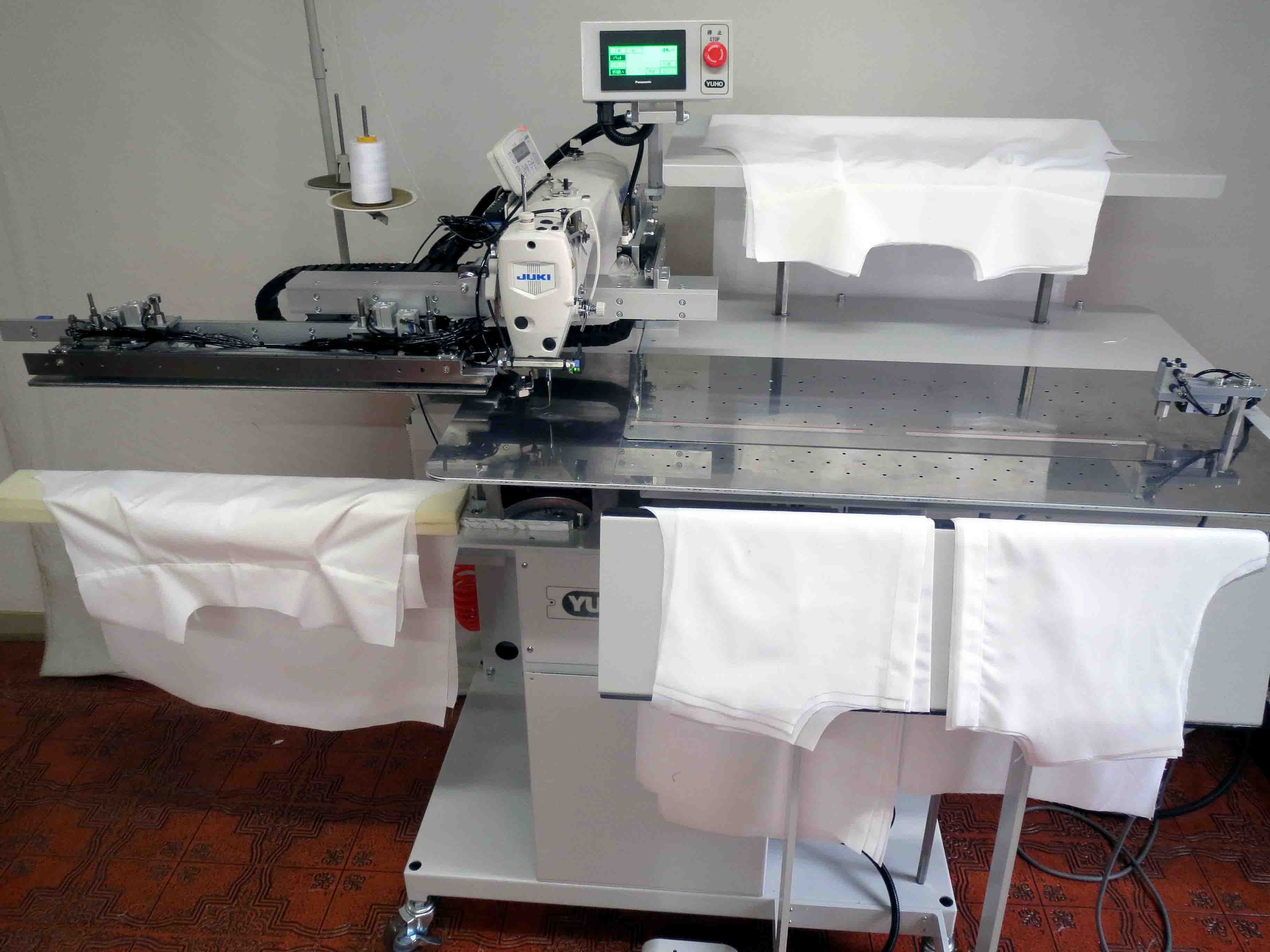 @@@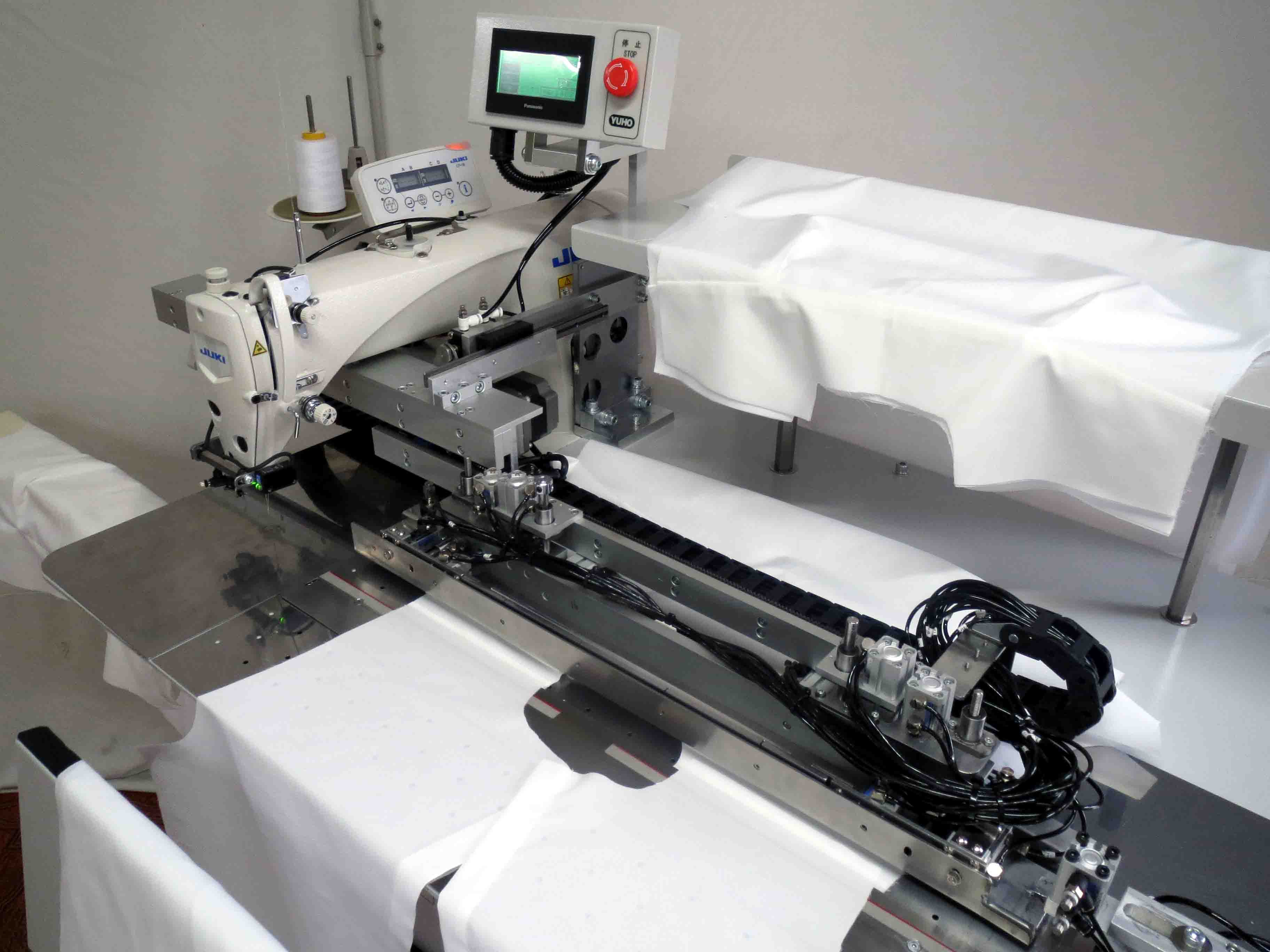 ORIGINALLY DESIGNED
JOIN SHOULDER SEWING MACHINE U-3502-E IS
JUST NOW DEBUT ON !!

NEW MODEL U-3502-E FOLDABLE THE TOP AND BOTTOM YOKE PIECE
WITH A BACK BODY INSIDE SEPARATELY AND JOIN AUTOMATICALLY,
JOINING FRONT BODY TO SHOULDER IS NOW DEBUT ON INNOVATIONALLY.
ALSO, IRONING CAN BE SAVED, AND ALLOWED 0.8‡o TOP-STITCHING.


AUTOMATIZED SHIRT MAKING UP
Shirt making up process is finally automatized.
This working process requests a lot of hand working because of welt seam , yoke piece and front fabric are bias, may cause of puckering so, with iron presseing and may prevent from shrinking & extending in the joining shoulder and welt seaming.
U-3502-E can fold 2 yoke pieces (top/bottom) inside separately, and clamp front (left/right).
U-3502-E is now fully automatized with the simplyfied working.
AVAILABLE TO KNITTED FABRIC WITH SINGLE YOKE PIECE
When top-stitching with single yoke piece, attaching yoke piece and joining shoulder stitching are available with an accurate stitching margin.
ACCURATE SEWING-START & END IN YOKE PIECE AND FRONT BODY
Available to fold top/bottom of yoke piece inside accurately.
With YUHO originally designed bobbin thread drawer, top-stitching (0.8‡o) free from puckering is promised.
When sewing start & end, free from sewing slip is also promised.
SEPARATELY TOP/BOTTOM YOKE PIECE FOLDING INSIDE & TOP-STITCHING
Fold 2 top/bottom yoke piece inside and fold with an accurate folding margin.
YUHO innovationary designed mechanism front body seam margin can be set along to folding width.
AUTIOMATICAL YOKE PIECE STITCH MARGIN CONVERSION
Yoke piece (bottom) margin setting is allowed freely.
Yoke piece (top) margin setting is allowed 0.8 ` 3‡o freely.
With pulse motor with gear to the left/right shoulder, stitch margin is adjustable by 0.1‡o.
Variation to the fabric thickness or hardness is corresponded by 0.1‡o on the LCD touch panel.
SIMPLIFIED LCD DISPLAY & MAINTENANCE
With LCD disply panel, manitenance and checking to the devices available simply.
Left/right stitching width and correction is allowed quickly.
When folding is mishandled, with "refold" on, folding can be again when tilting head for maintenance, all of devices are set in good conditions.
Thread-clamper by sewing type supports making an easy needle exchanging and threading.
AUTOMATIZED STACKING TO THE LARGER FABRCS
YUHO originally designed stacking mechanisim allows stacking to the larger left/right front panel and back-yoke panel.
Over-lapped working promises high productivities, fabric tray and stacker bar supports igh productivities.
MAIN DEVICE
@Ÿ Top/bottom folder
@Ÿ Guide rail right-end holder
@Ÿ Guide rail left/right paralleler
@Ÿ Powerful table vacuuming with invertor
@Ÿ Clamper left/right with pulse motor
@Ÿ Table blower with removable dumper
@Ÿ Needle cooler
@Ÿ Stacker
@Ÿ LCD touch panel display
@Ÿ Thread Brekage Detector (T.B.D.)
@Ÿ Thread claper, thread release, thread looser
@Ÿ Air gun